Dizzy:
Cardiac Echo with Colour Doppler = Normal. Specialist Veterinary Cardiologist.

With very limited showing, Dizzy has remained competitive at the top level. She has proved her worth in the ring and in the whelping box. Dizzy is now retired from the show ring and all maternal duties. She is head of the sofa warming department here at Ondeen.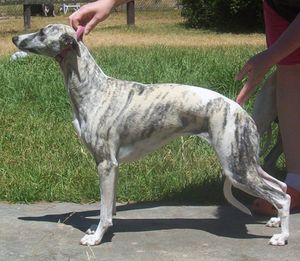 Dizzy @ 1 year of age.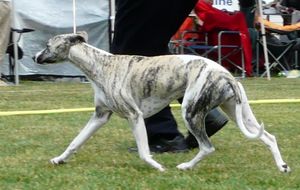 Dizzy @ 10 mths of age
(showing the extension and drive we expect to see in our whippets. Front extension from the shoulder with an equally balanced rear kick with no overstepping and holding her shape beautifully)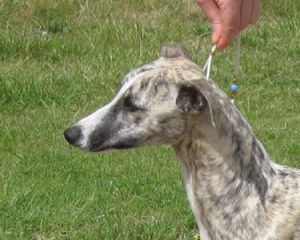 Dizzy head shot @ 8 1/2 mths of age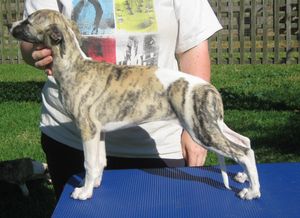 Dizzy @ 11 weeks of age.
Ch Khabaray Hugo Boss (IMP UK)

UK CH Fawnbree Special Brew at Dumbriton

Hillsdown Aisling Khabaray

CH Martinique Harvest Moon

AM CH Surrey Hills Strike the Gold ROM

AM CH Oxfords Limoge at Festiva